Submitted by Anonymous on
Full Title:
Henry Madden Library, California State University Fresno
Highlights:
283,000 GSF (addition); 80,000 GSF (renovation)
Utilizes a transparent north façade to let in natural light and allow for views to the campus and adjacent garden;
Technologically innovative solutions making the library more efficient and user-friendly;
A landmark building for the campus;
The prominent sculptural space at the entrance creates a strong exterior image and defines spatial organization'
Provides a variety of informal and formal seating spaces;
Features and extensive public artwork program
Summary:
AC Martin, in association with Hillier Architecture, designed the new library at Fresno State University, home to the largest collection of volumes in California's Central Valley. The new design provided innovative solutions to the existing library's limited capacity for its rapidly expanding collections.
This project, which included a 283,000 gsf addition and 80,000 gsf renovation of the Madden Library, was a collaborative effort between AC Martin, Hillier Architecture, and CSU Fresno Librarian and President of the American Library Association, Michael Gorman. The team fused their collective expertise to create the 'library of the future', a building that brings together students and residents from the surrounding community.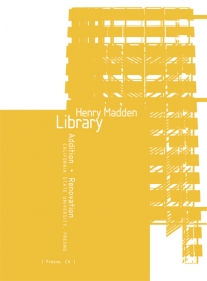 https://issuu.com/acmartin/docs/csuf_madden