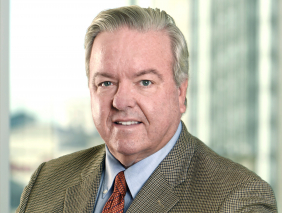 Chief Executive Officer & Chairman
Christopher C. Martin is the third generation leader of AC Martin, one of Southern California's oldest planning and architecture firms. His architectural work has contributed to the economic vitality of downtown Los Angeles, and as a civic leader, he has devoted a significant portion of his time to critical issues facing the City and County of Los Angeles. Having recently completed the Wilshire Grand Redevelopment Project in downtown Los Angeles, where Martin Project Management (MPM) served as the Owner's Development Manager, Chris has resurrected the role of Master Architect that Albert C. Martin Jr. and Edward J. Martin played in the creation of the modern downtown skyline.
Chris was a founding member of the Los Angeles Business Improvement District (BID), an idea that he helped initiate at the Central City Association. This BID is now the largest in the country, and has improved street cleanliness, maintenance, friendliness, and safety for property owners, residents, and visitors. He championed the need to restore and update, rather than merely seismically retrofit, Los Angeles City Hall, which reopened as a vibrant seat of local government.