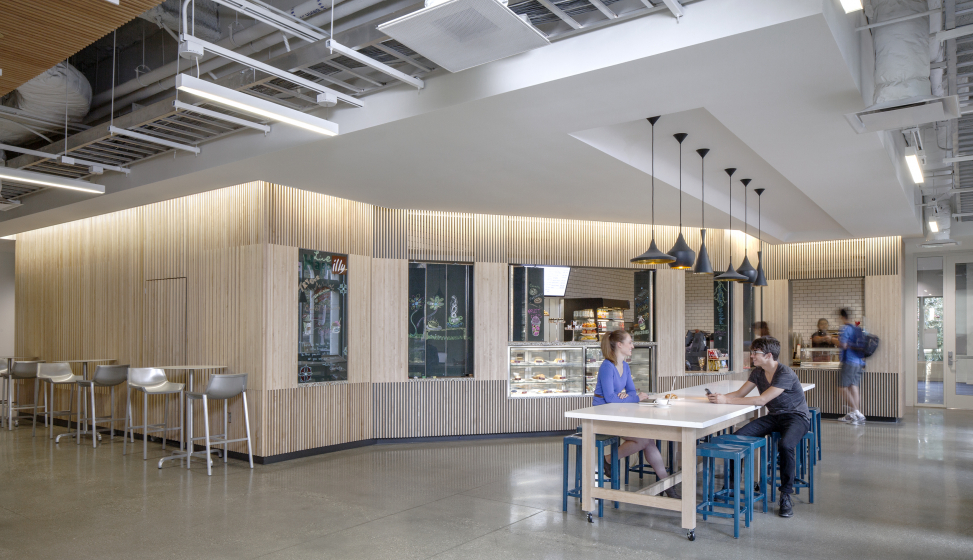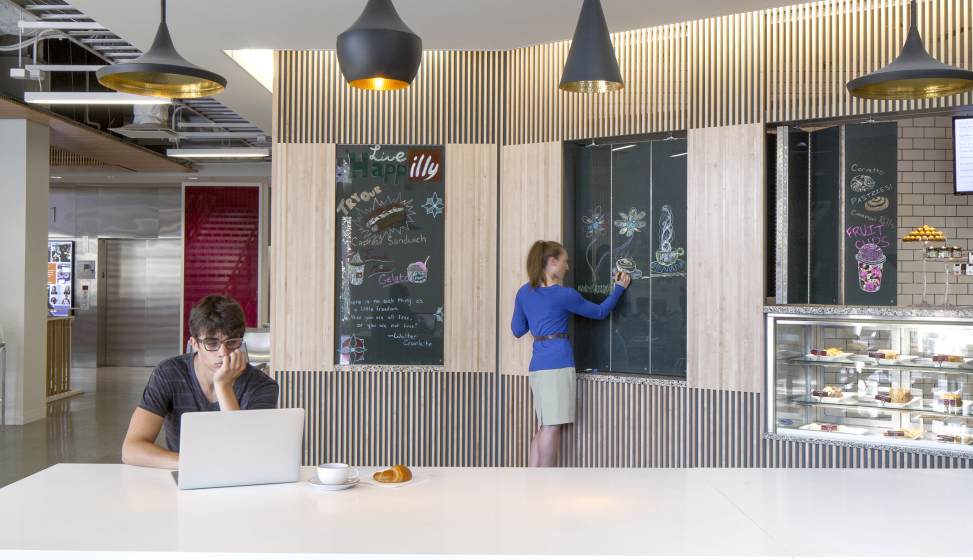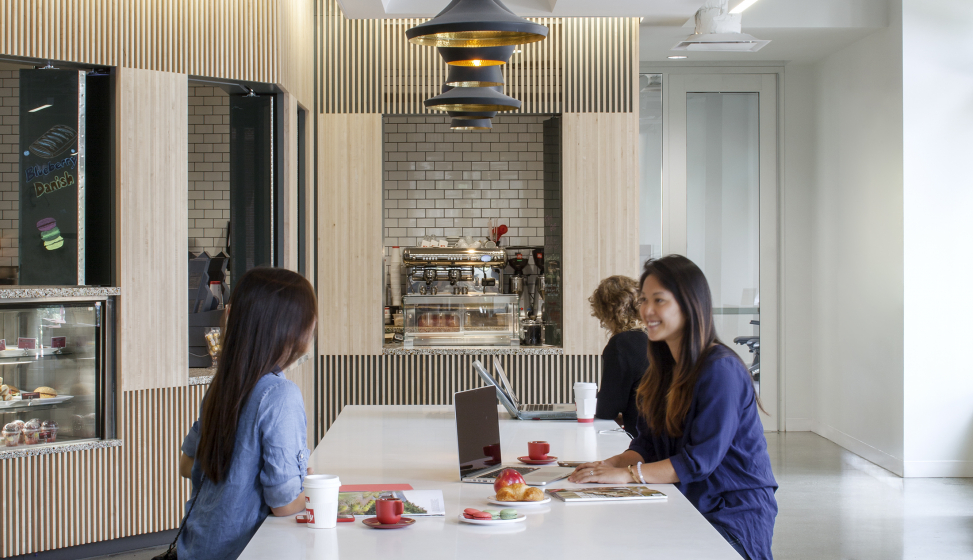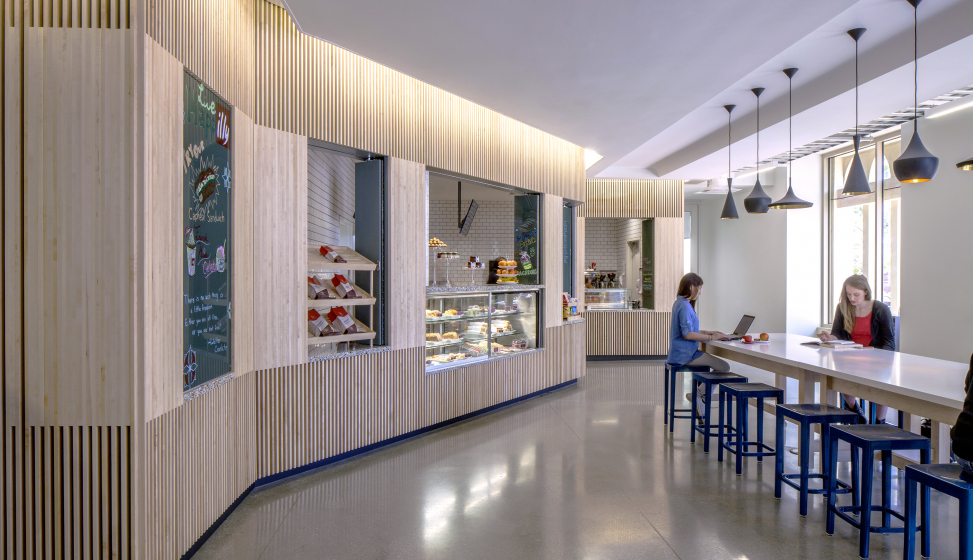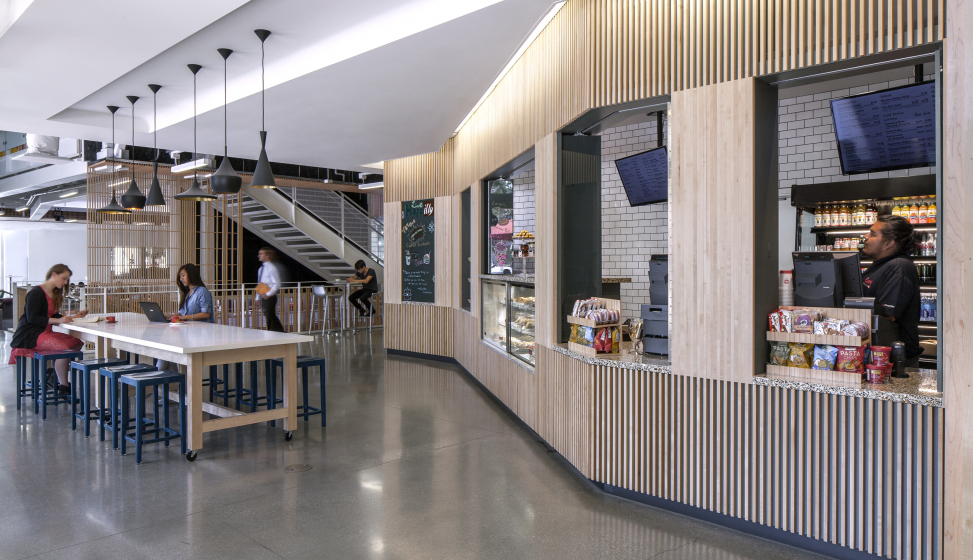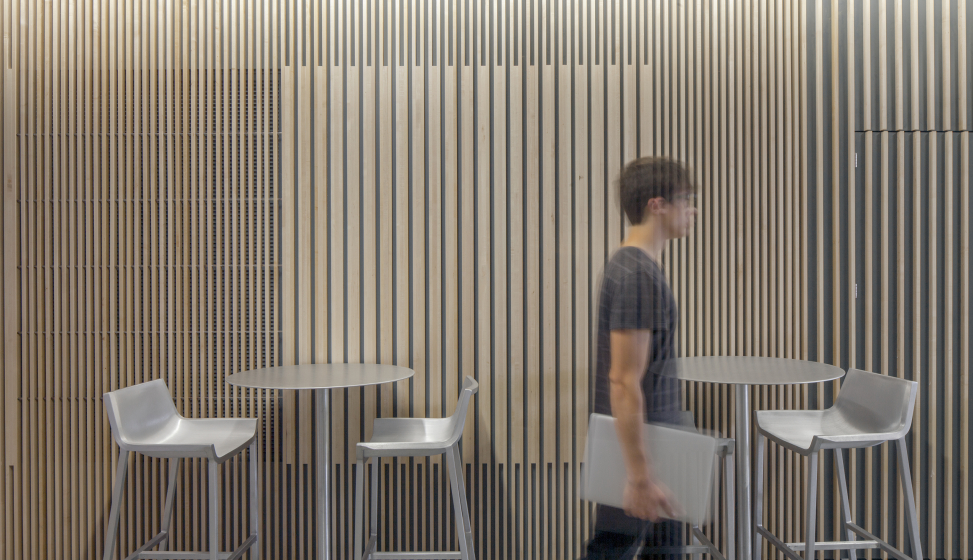 The Café at Annenberg
University of Southern California
The Café at Annenberg is part of the  Annenberg Academic Building on the campus of the University of Southern California (USC). The 895 SF café was envisioned to be more than a food service outlet; it was designed to be a 24/7-student space. Carved out of a corner on the first floor and adjacent to the grand atrium, while clearly a continuation of the interior fabric, this café has its own distinction and has become a campus wide destination. The interior design team played with angles, verticality, and space planning to punctuate the new space.
The dual-function of the café was the primary challenge. In order to maximize the usable space, a compact food-service area was cleverly concealed with an accordion wall that, when closed, becomes an integrated glass writable surface that together with the rearrangible communal table provides students a collaboration center in the heart of the lobby. Features such as these were included in order to invite students to claim the space after hours.
The wood slat design also became a malleable design tool. The vertical slats adhered to the regularity and conformity of the exiting system. Here, they were used throughout the project and then integrated a series of custom infills. Spacing and rhythm varied from tight to loose to conceal otherwise unsightly functions such as a large air intake, electrical room access doors and other base building functions that all happened within this small footprint. 
The café has an exterior wall made of glass allowing for natural light to enter by day and for the space to act as a welcoming beacon by night. The central focal point is a mobile communal table under a row of decorative lighting pendants, both of which are anchored by the vaulted ceiling above. The modern color palette includes polished concrete, vertical white maple slat walls backed with back painted glass, and blue aluminum stools. The solid surface counter top made of cement and coarse glass chips brings a pop of color to the palette.
The new café has become a needed space offering students somewhere to eat, rest, study and collaborate.