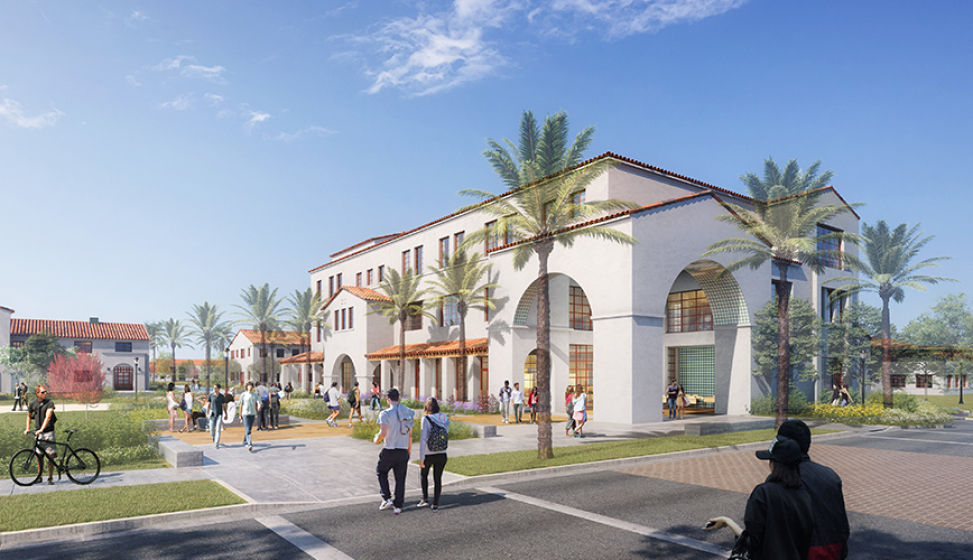 Gateway Hall, California State University, Channel Islands
Gateway Hall provides California State University, Channel Islands with a new "front door" that is a beautiful and welcoming space for both the campus and the surrounding community. The spaces provide innovative environments for learning, interaction, and collaboration. The project consolidates several departments and spaces into a centralized hub - providing a new building and renovated buildings that are intuitive, user-friendly, and easy to navigate.
The program for the new Gateway Hall provides approximately 80,000 SF of renovated existing facilities and new construction. The project will house campus admission, and a new "one-stop-shop" for student services, including financial aid, registrar, and advising. The new building will also house new general classrooms and departmental labs for math, computer sciences, and mechatronics. Lastly, the extended university will find a new home in renovated facilities; one that provides a new front door to the community. The project pulls together programs and occupants from across the campus into an interdisciplinary and integrated complex, putting the student and public community first.
Designed according to the mission style campus guidelines, the new building blends harmoniously into the contextual campus. Gateway Hall will greet all who arrive at the CSUCI campus with its welcoming façade. As a campus built in the Mission style, buildings were sited to define outdoor space. The new Gateway Hall building is sited to maintain that character. At the termination of University Drive, the visual corridor facing south towards the North Quad is preserved by siting Gateway Hall on the west side, in anticipation of a future theater to be located on the east side, and creating a paseo in between the two buildings. The Paseo serves as the main outdoor circulation through the Gateway site and into the North Quad and the rest of the campus. It is envisioned to have a leisurely quality as one moves through the site with Paseo-facing edges that are porous, providing visibility into interior activities. The Paseo has an entry plaza on its north end, giving a sense of arrival to the campus. The renovation of the historic structures gives new life to the old buildings, adapting the previous mental hospital into a welcoming university environment.