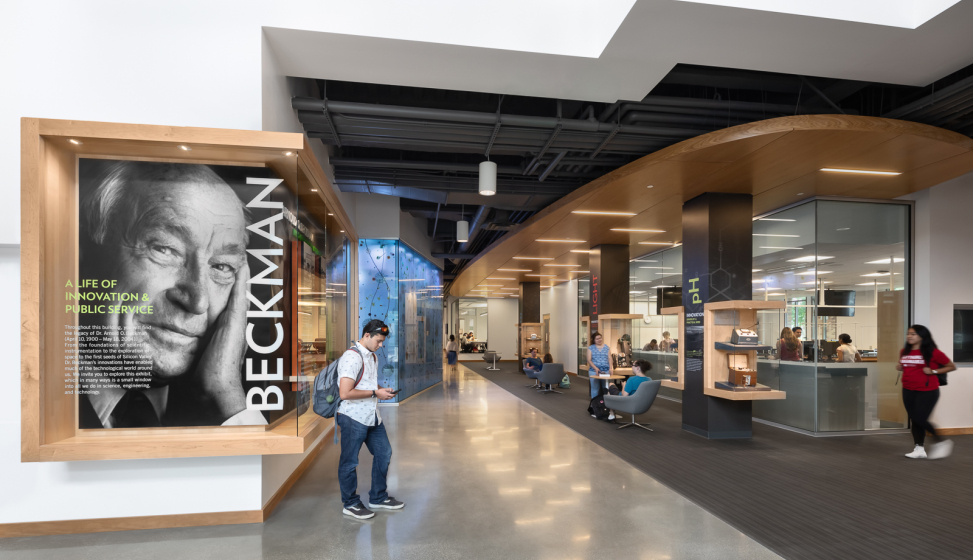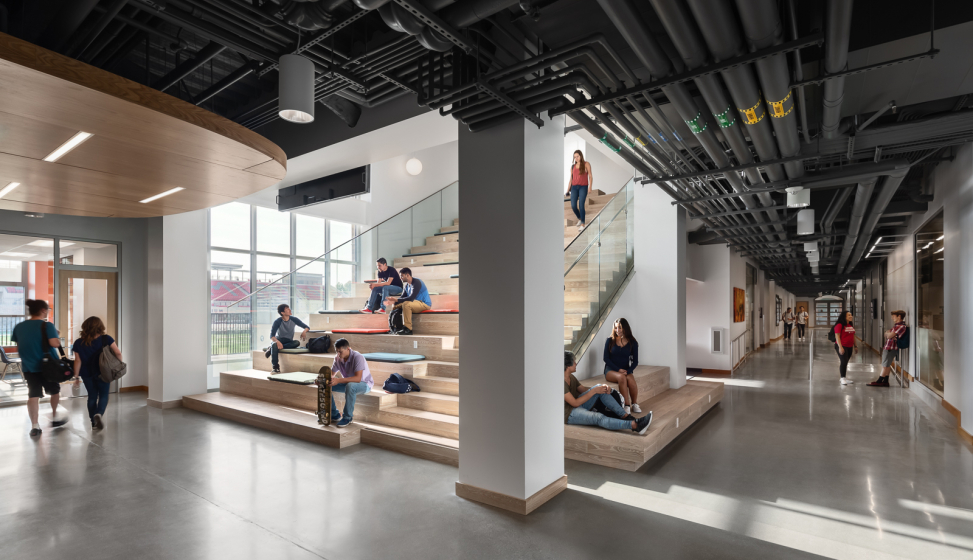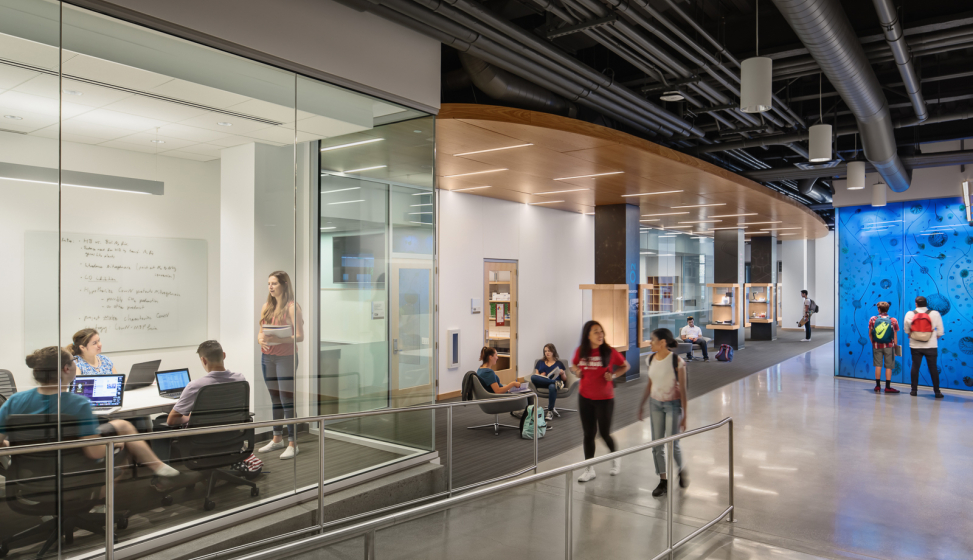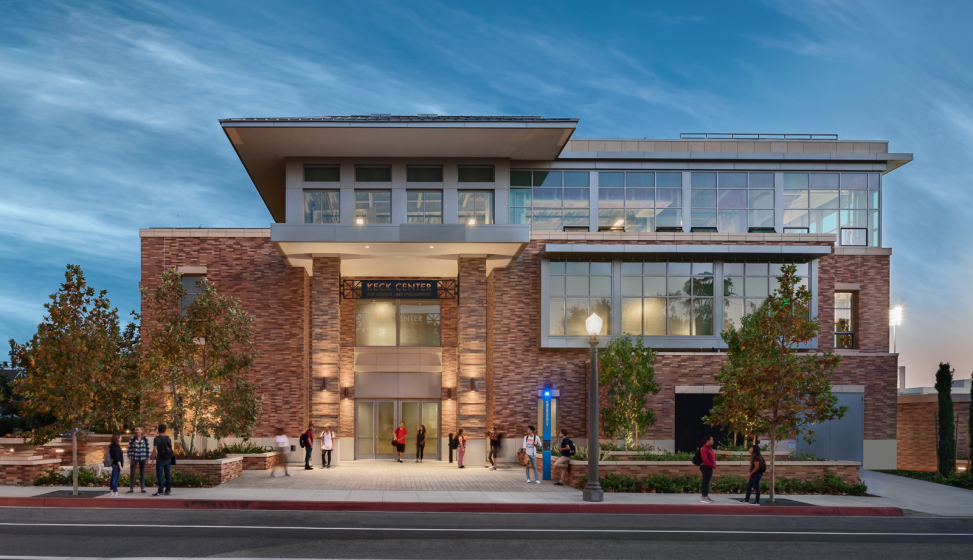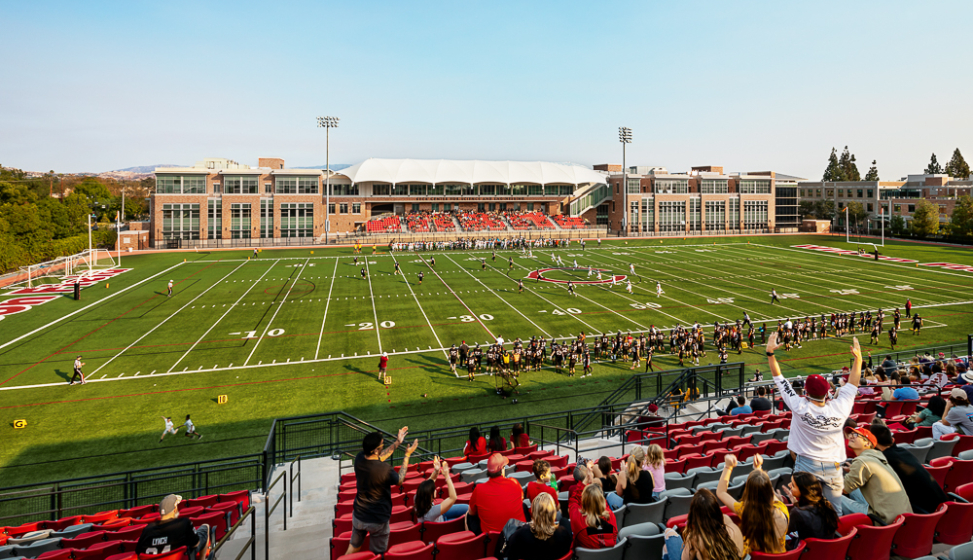 Keck Center for Science and Engineering
Chapman University
The Keck Center for Science and Engineering occupies a significant site on the Chapman campus, located at the north-east corner, adjacent to the Chapman football field (to the west) and Argyros Forum (to the south).  The new building adds 140,000 SF of educational space and two levels of below grade parking. 
The Center presents a permeable, welcoming face to the campus and surrounding community. An entry plaza facing Argyros Forum addresses the anticipated pedestrian traffic flow from campus. One enters from the north into a generously day lit two-story space. A wide corridor is lined with floor to ceiling glass and integrated display cabinets, putting science on display. Throughout the length of the building, "events" are introduced as collaborative spaces, and to allow views out to the east and west. The heart of the building is at the midpoint and consists of a variety of gathering spaces.  A stepped amphitheater allows for casual meeting and working, and also provides vertical connectivity through the building.  A connecting stair rises from the second to third floor, continuing the connectivity to the upper floor. Each floor has a collection of meeting rooms and lounges complete with coffee making facilities and student gathering spaces. 
At the second floor, an outdoor terrace adjacent to the amphitheater allows for the collaborative space to spill outdoors.  The terrace also provides a physical break in the rather long eastern elevation. At the third floor, due to the prescribed setback, there exists an opportunity to have terraces and roof gardens along the Eastern face of the building.  The faculty lounge and seminar room are also adjacent to outdoor terraces. 
An open arcade occupies the first floor eastern face of the building and connects to the existing sidewalk at a number of locations. Outdoor rooms have been integrated in the garden space next to the arcade to encourage student and faculty gatherings.  The entry facing Center Street at the center of the building will provide access to the visitors' stadium seating through a grand arched opening. Visitors will access the bleachers serving the football field through an arched two-story space.