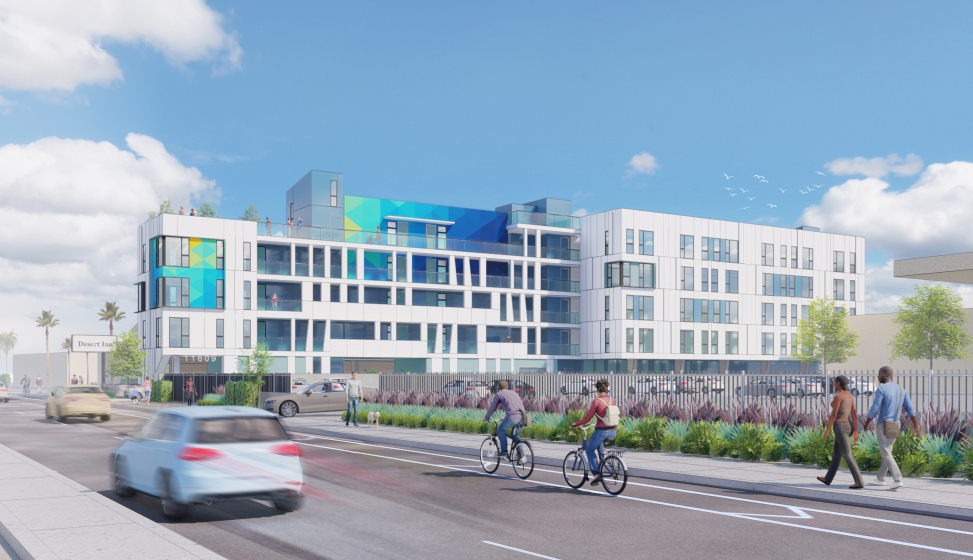 Located at 11609 S. Western Avenue, Westhaven is an affordable housing project which is situated on a narrow 0.9 acre lot just north of the 105 Century Freeway and across the street from Los Angeles Southwest College. This five-story building is designed in a contemporary architectural style with the concept of a sliding building mass, and articulated with varied joints and rhythms across the building façade. 
The project consists of 57 affordable apartment units, 28 of which are studios, and 28 one-bedrooms on floor levels 2 through 5. A single 2-bedroom unit will be provided on the fifth level for the on-site property manager. 34 surface parking stalls will be provided at the rear of the site including one van compliant handicap stall. This project will be constructed in one phase after the demolition of an existing two-story residential structure.
Resident amenities on the ground level include a community space, computer room, laundry room and secured room for bike parking with 100 SF of space allocated for residents to service their own bikes. The community room is located at the rear of the building and directly adjacent to the outdoor community space, which will provide a more quiet and private space for the residents. The roof terrace will feature open and shaded areas for residents to relax and take in the surrounding city views. The property manager and case managers will share secure offices located on the ground level facing the private drive, which enhances the security of the building entrance.