Submitted by Anonymous on
Full Title:
Dr. Maya Angelou Community High School
Highlights:
211,000 GSF for six buildings; 115,000 GSF parking/play structures
Balances the need for a safe and secure learning environment while embracing the neighborhood with a symbol of hope and aspiration;
Serves 2,025 students with 75 graded classrooms, performance spaces, a library, dining facilities, two gyms, and several play fields and courts;
The siting and massing of the project, as well as the color and detail of the design, were developed considering the fabric and scale of the surrounding neighborhood
Summary:
The newly named Dr. Maya Angelou Community High School relieves severe overcrowding in a previously underserved urban neighborhood. The campus consists of four learning academies—or "learning communities"—serving 2,025 students with classrooms, science labs, and dedicated administrative space. The three inaugural academies include: The Fine & Performing Arts Academy, Global Issues Academy, and The Synergy Quantum Academy. 
Shared facilities include: performing arts classrooms, a library, multi-purpose room, two gymnasiums, a variety of playfields and courts, foodservice and lunch shelter, administrative support services, playfields, and subterranean parking under basketball courts.
In response to the desire to make the school a place of safety and belonging, the site is organized based on a small village or town. At the westernmost portion of the site—connecting to the main plaza by a winding covered walkway—are the Small Learning Communities. These are treated like the 'residential neighborhoods' of the village. They are designed as three-story structures, each adjacent to a dedicated open space. A variety of open spaces with landscaping and seating provide students with safe outdoor spaces to study and socialize.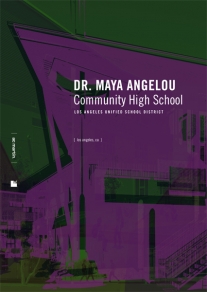 https://issuu.com/acmartin/docs/maya_angelou_chs_011813