Submitted by developer on
Full Title:
Erb Memorial Union, University of Oregon - Expansion & Renovation
Highlights:
126,300 SF (expansion); 91,200 SF (Renovation)
Design concept creates a literal and figurative hearth for the campus;
Programmatic elements include: food services, a 1,000-seat concert hall, student radio station, conference center, meeting spaces, student government
Summary:
AC Martin, in association with SERA Architects of Portland, Oregon, completed the Detailed Program and Schematic Design for the Expansion and Renovation of the Erb Memorial Union (EMU) at the University of Oregon in Eugene.  In keeping with the University of Oregon's culture of a collaborative design process, the work plan for the design of the EMU expansion and renovation centered on user participation and engagement as described in the Campus Plan. The fundamental approach was to engage the appointed EMU User Group, as the 'client representative', in the planning, programming and design process, and to present them with thoughtful alternate solutions to meet the goals and objectives of the project.  The User Group was actively involved as a partner in the design process.
The building expansion encompasses approximately 126,300 square feet and the renovation encompasses approximately 91,200 square feet. Programmatic elements include the Craft Center, the Outdoor Program, a 1,000 seat Concert Hall, student radio station, dining services, coffee shop and pub, student government, conference center, meeting spaces, student resource center, retail and a lobby/lounge.  The multi-use facility is designed to accommodate a 24-hour zone in the building, and several student-centric spaces are intended for late-night use.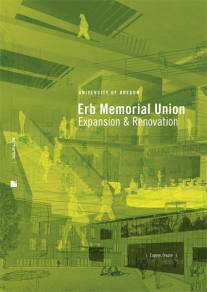 https://issuu.com/acmartin/docs/uofo_emu_final_2012-08-06