Submitted by Anonymous on
Highlights:
12,250 GSF
Designed to speak to the spirituality of many religions represented on campus;
Sculptural design that is open and inviting;
Incorporates natural elements including stone, light, water, and wood;
Prominent steeple with backlit marble element functions as a beacon of light;
Contextual relationship to the historic setting of the neighboring Old Towne Orange
Summary:
The Fish Interfaith Center and Wallace Chapel is a richly layered building with a unique response to program, imagery, and spirituality. The concept for the chapel was to develop a composition of space that transports visitors from the material world (campus) into the spiritual realm. The path into this realm incorporates a series of architectural and artistic elements that reinforce this transitional experience. The symbology used in the journey had to comfortably accommodate people of many different beliefs. To achieve this vision, AC Martin collaborated with five prominent artists to create a metaphorically significant experience beyond that which architecture alone could create. 
Inside the sanctuary, gently inward-curving walls seem to embrace the congregation within a protective refuge. These walls—which range from two to ten feet—surround the 250-seat worship space. Floor-to-ceiling panes of glass at the corners and a clerestory around the top create the illusion of a roof that floats 40 feet above the sanctuary floor.
The exterior is sheathed in golden collegiate brick, giving the building an air of permanence and longevity as well as a contextual relationship to the historic setting of Old Towne Orange.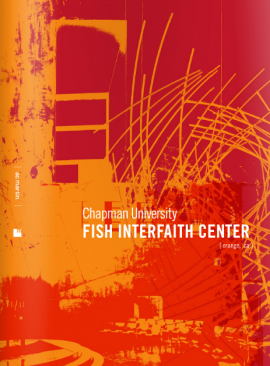 https://issuu.com/acmartin/docs/chapmanfish