Submitted by content editor on
Los Angeles (Boyle Heights), California
Highlights:
54,000 GSF main building includes offices, community rooms, briefing room, booking area, exercise room, locker rooms, stolen property storage, interview rooms, and temporary holding cells;
115,000 GSF parking structure for approximately 330 vehicles; and 7,000 GSF vehicle maintenance building that includes a fueling station and car wash;
200 officers and staff serve a community 15.2 square miles in size and comprised of approximately 200,000 people;
Certified LEED® Gold
Summary:
The Hollenbeck Station is one of several new stations that were funded by the 2002 Proposition Q, citywide public safety bond program. While the new station was built on the site of the existing 1958 station, it is considerably larger with a modern design that erodes the fortress-like nature of traditional police facilities. Located near local government offices, community spaces and a public park, the station creates a desirable work environment for the officers, and encourages interaction with the surrounding community. The new station opened in 2009.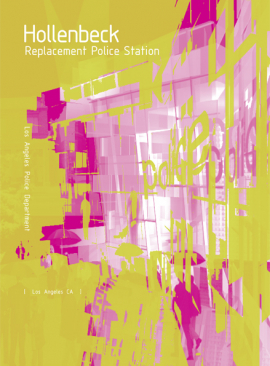 https://issuu.com/acmartin/docs/hollenbeck