Submitted by developer on
Highlights:
5,030 SF
Custom furniture provides variety and interest and promises a new experience with each visit;
Integration of supergraphics and custom collateral materials and place settings carry the concept through to the smallest detail;
Kitchen, bar, and dining room layout allow for increased operational efficiency and service speed;
Has become a destination spot not only for the nearby college students, but also for the locals and downtown professionals
Large, retractable window walls take advantage of the southern California climate to create year-round indoor/outdoor environment
Summary:
When a 5,000 square foot Sizzler restaurant closed, USC saw an opportunity to develop an upscale café to service not only the student body and faculty, but the entire surrounding community. The Lab Gastropub is located within the City of Los Angeles Restaurant Incentive Program area which was developed to discourage fast food restaurants in favor of sit-down restaurants offering a variety of healthier foods. 
The Lab was designed to offer an indoor/outdoor dining experience with a storefront that features a wall of custom glass and wood accordion doors, opening the dining room to the adjacent patio/lounge area and taking advantage of the temperate Los Angeles weather.
The décor enlists memories of classic chemistry labs, from slate tables and wood floors to lab-style Pyrex beakers and glasses. Outside, the expansive patio features low laid-back couches, a firepit and gas heaters, creating a lounge-like atmosphere from which to see and be seen by campus passersby.
The city of Los Angeles has taken notice. While USC expected that the campus community would patronize the Lab, it didn't anticipate the number of locals and downtown professionals who have been frequenting the spot since its March 2009 opening. The Lab has doubled its initial revenue projections, earning it a 2009 "Good Design is Good Business" award from Business Week/Architectural Record.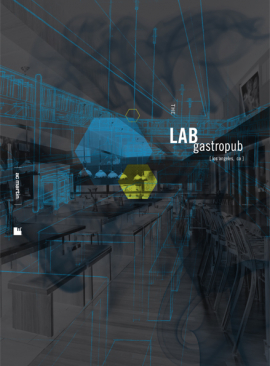 https://issuu.com/acmartin/docs/labgastropub