Submitted by developer on
Full Title:
Segerstrom Science Center, Azusa Pacific University
Highlights:
70,000 SF
Gateway building to Azusa Pacific University's campus;
Translucent channel glass on the façade creates a rich and modern contrast to the cement board of the exterior skin;
University's philosophical and theological approach to the sciences conveyed via large-format text graphics etched on the exterior glass panels;
Triangular mass of the building creates a central open-air courtyard complete with a 40-foot "teaching pond;"
Sustainable strategies include: 'appropriately' sized building systems, bio-swales to reduce toxic runoff, sustainable building materials and drought-resistant landscaping;
Certified LEED® Gold
Summary:
The Segerstrom Science Center at Azusa Pacific University is a 70,000 sf state-of-the-art science facility. The building houses the Departments of Biology, Chemistry, Mathematics and Physics, along with research and teaching components for the School of Nursing and Department of Physical Therapy.
The structure is predominantly a steel moment system with an exterior skin comprised of multi-colored cement board and full-height translucent channel glass. The innovative glass façade creates a rich and modern contrast to the cement and allows for natural light to penetrate the interior by day and radiate diffused light at night. It gave the designers the opportunity to convey the university's philosophical and theological approach to the sciences by allowing large-format graphics to be etched into the glass. The subtle and delicate biblical phrase inscriptions are visible at varied angles, allowing viewers the opportunity to discover them, layer by layer, as they approach the building. 
The building's triangular mass is designed by two and three-story elevations that define a central open-air courtyard. The courtyard includes a 40'-long freshwater 'teaching pond' stocked with flora and fauna, making it useful in assisting the study of life science. The outdoor space also gives students and faculty an informal area to collaborate, study and socialize.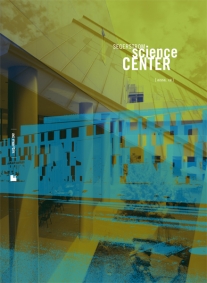 https://issuu.com/acmartin/docs/azusa_pacific