Submitted by Anonymous on
Highlights:
Adaptive reuse of a former loading dock for the University of Southern California's (USC) administrative office building.
The space's raw industrial roots were preserved by keeping the original ductwork and pipes exposed and cement floors and diamond plate dock levelers intact.
Featuring stainless steel walls and fixtures, bamboo strand board, Edison bulbs, stick fluorescents, hand-stenciled signage and a 14x18 foot abstract photograph of a decommissioned power plant.
A mix of custom-designed and off-the-shelf furniture is modern and edgy yet budget-conscious.
The original roll-down doors remain and act as security shutters at night.
Outside, the new storefront wall is recessed, forming alcoves into which German biergarten tables are nestled.
Summary:
URBNMRKT, a grab n' go deli and future bar, occupies the former loading dock of a four-story building that now houses USC's administrative offices. Fronting Grand Avenue in downtown Los Angeles and occupying three truck bays and 7,000 sf, this new urban-chic hangout has its roots deeply grounded in its industrial/operational history while its furnishings and interior design maintain a home-grown, modern vibe. Exposed stainless steel clad walls and fixtures, doors and the bar are juxtaposed by warm bamboo strand board wall panels. Custom-designed leather lounge chairs and ottomans are paired with off-the-shelf tables and bar stools with hand-painted legs.  Simple glowing bulbs in custom steel armatures hang from the 18-foot ceiling, which was painted white to mask the old ducts, conduit and pipes.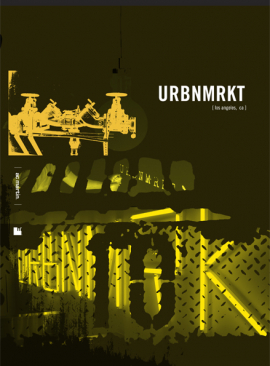 https://issuu.com/acmartin/docs/urbnmrkt