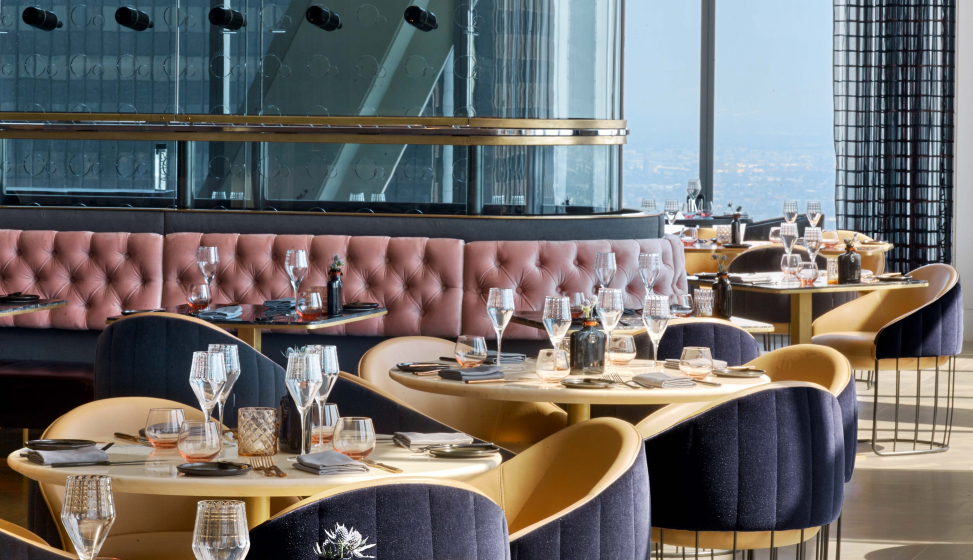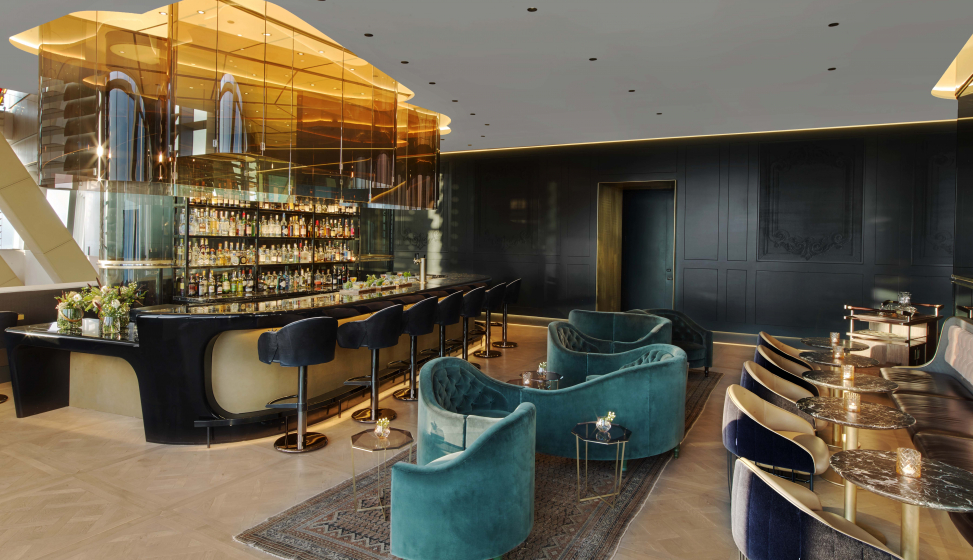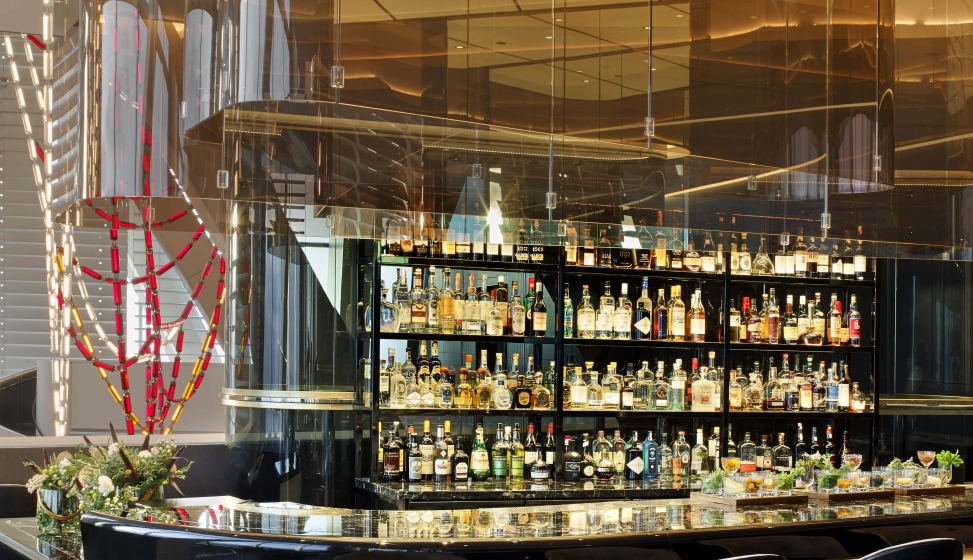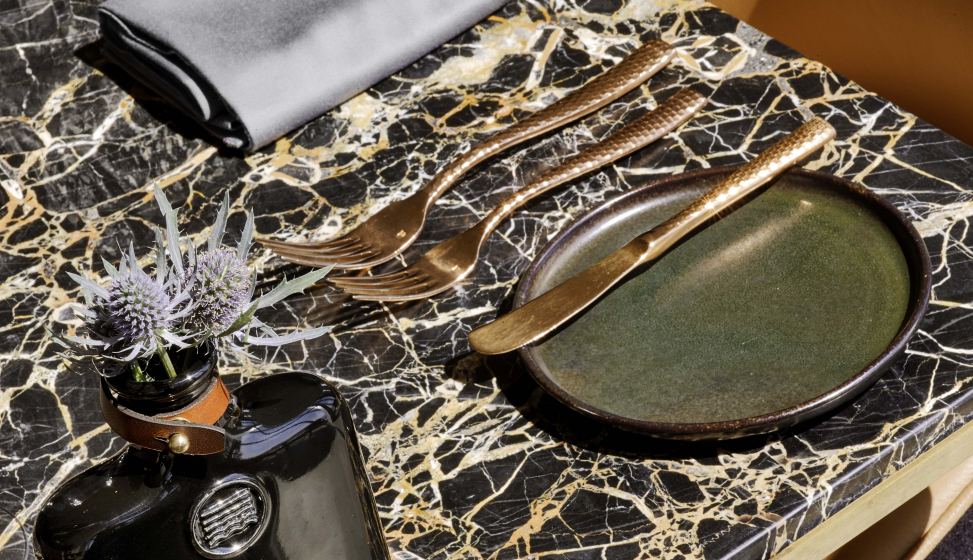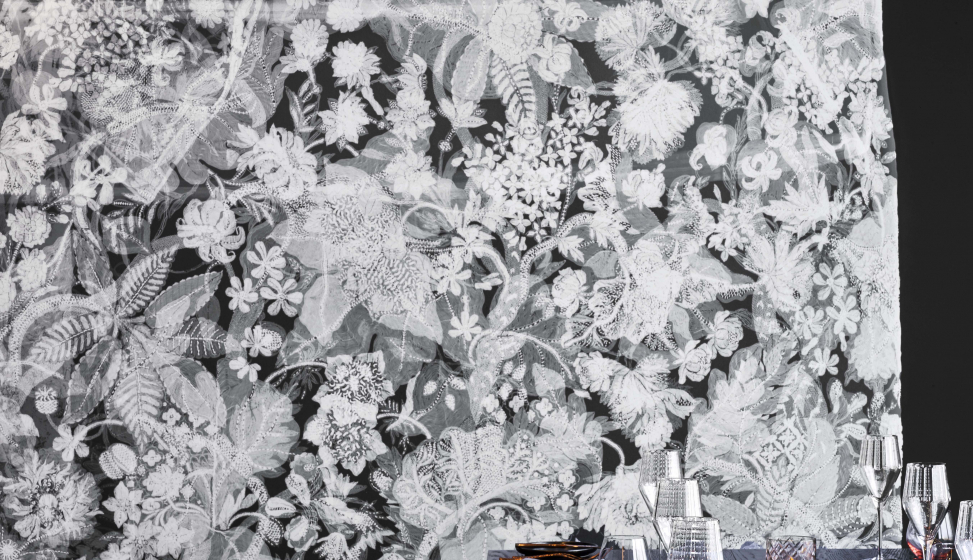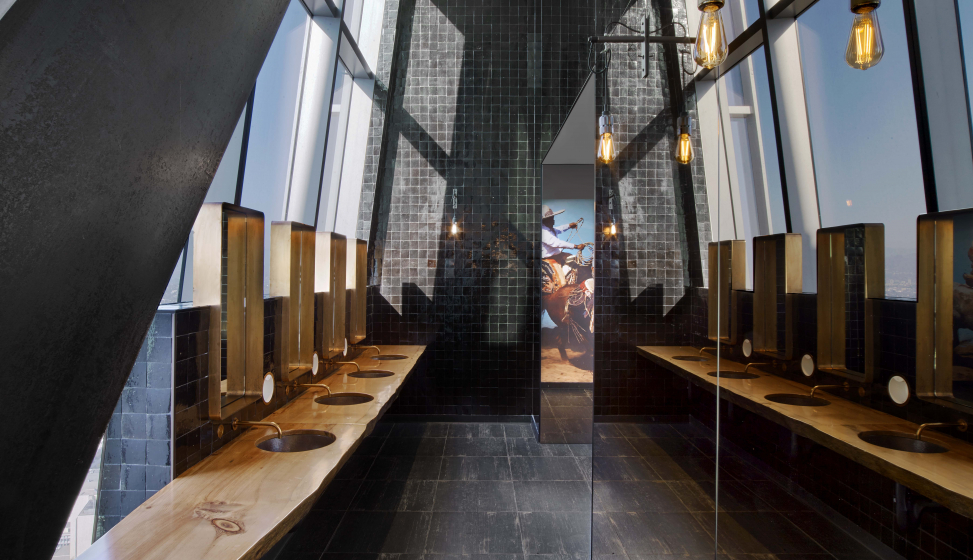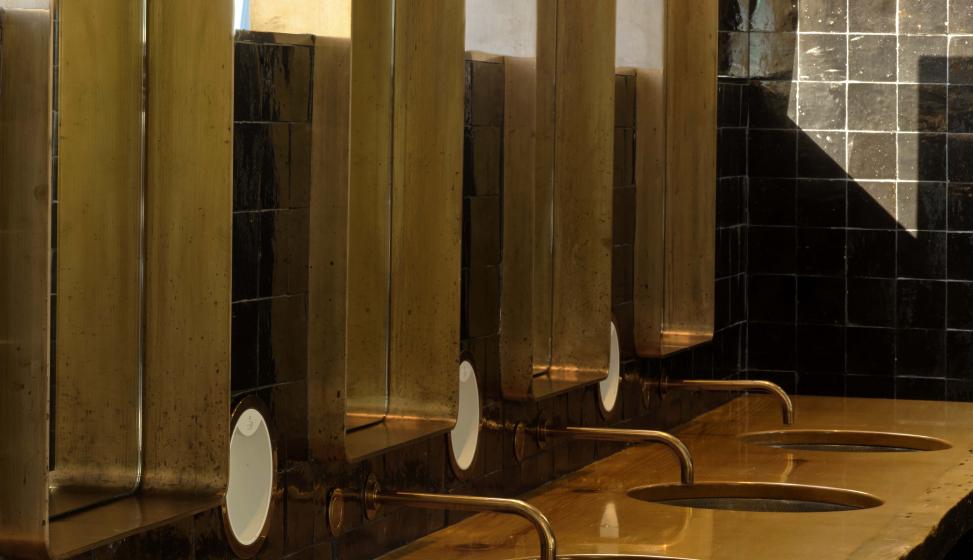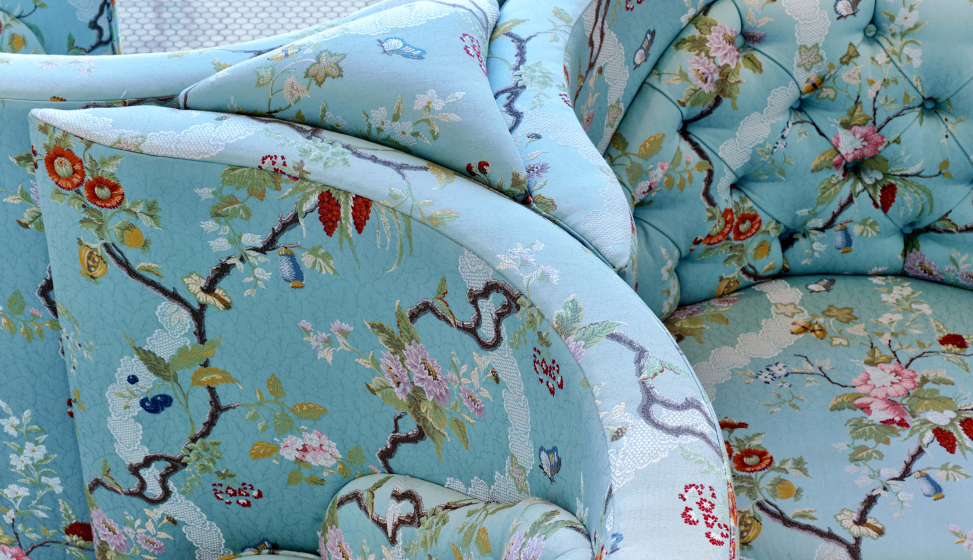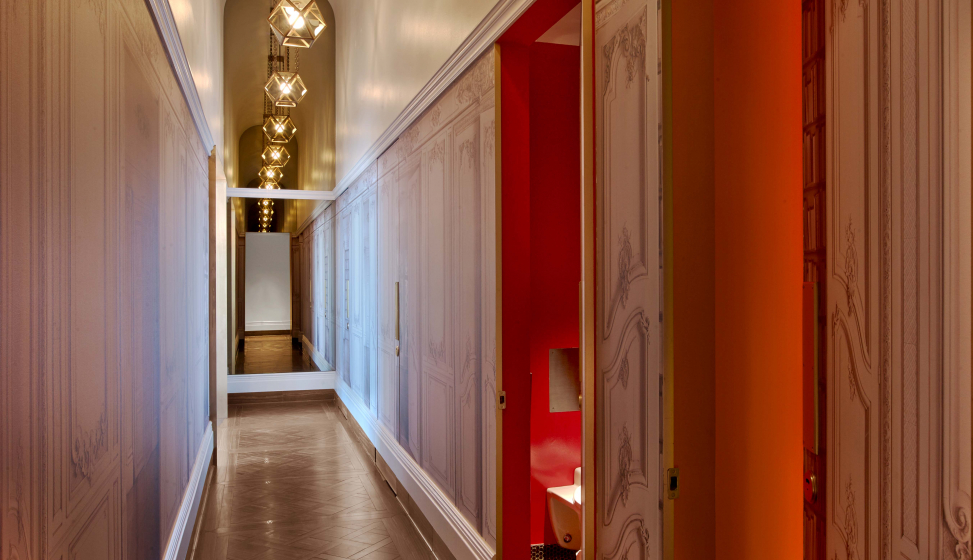 This 71st-floor restaurant venue is a culinary French steakhouse with a California twist. This is the story of two characters: Marie Antoinette and the Mexican/Californian Vaquero. The essence of each character melds into a unique blend of rustic and chic. In a careful balance of masculinity and femininity where the California desert meets French opulence, two contrasting identities elegantly collide to create a rich and velvety ambiance.  
The experience begins at the crystal bar, a glowing pink glass beacon inspired by Marie Antoinette's shimmering jewels, glassware and mirrors. Mixology drinks and amber vintage scotches are on the menu. Jewel-toned mohair sofas—an interpretation of Marie Antoinette's Chaperone chair—adorn the bar lounge atop a vintage faded rug. Designed for courting couples and a chaperone, the curvilinear couch and freestanding chair encourage serendipitous interactions.
The wood parquet floor pattern, while fashioned after the Hall of Mirrors at Versailles, takes on a relaxed, grey washed finish, more indicative of Southern California. Deep blue-gray wall paneling features custom routed imagery of traditional moldings found in Versailles. The meat-centric menu contrasts with the feminine palette of pink marbles and tufted upholstery. Aged meats and cheeses are juxtaposed with farm-cultivated artisanal California ingredients within the refined opulence of darkened glass vitrines.
Curvy glass cases punctuate the space, encasing the diagonal structural braces integral to the building's architecture along with the extensive wine collection. The dining environment is a play of contrasts: pink mohair with brass hardware alongside charred wood and saddle leather accents.
A wine tunnel offers temperature-controlled cases of wine framed in lacquer panels opposite a glowing frosted-glass display wall, silhouetting bottles floating from floor to ceiling.
On the north side of the floor is the Atelier, a semi-private venue featuring an exposed prep kitchen offering interactive kitchen theater. A massive wood slab table is the piece de resistance for this 'chef's table' concept. At the atelier table, guests can delight in flights of wine, cheese and charcuteries while enjoying a full view of the preparation underway behind the 12-foot-high darkened glass wall. A large plinth of Italian marble serves as a prep counter for the 'charcutier' in this workspace. Glazed refrigerated cheese case displays featuring California and French cheese selections line the path to one of two private dining rooms. This room features a wall graphic by artist Nick Veasey of an X-ray of a traditional French dress featuring a 'panier' structured to accentuate the hips—a fashion statement prevalent during Marie Antoinette's time.
The bathrooms, unlike the restaurant design, separate the DNA of both characters and each bathroom represents the 'seed' elements of each individually. 
Entering the men's room there is a view looking northwest over the hills, slashed by an exposed raw steel diagonal structural brace. The moody palette includes a live-edge wood slab vanity with hammered copper sinks and copper mirror. The floor tile emulates rusticated blackened plywood. The dark mood of the bathroom conveys a rough-hewn cowboy atmosphere, with black mirrors and copper accents, bare bulbs hanging off brackets, and hand-cut glazed tiles that frame the opening to the toilet room, featuring a high-contrast bright blue California sky 'Vaquero' graphic.
In contrast, the ladies room is a cheeky twist on Versailles elements. Parquet flooring, continuing the pattern from the restaurant is made of dark brown marble. Past the entry vestibule, a long double-height hall is exaggerated with mirrors, reminiscent of the Hall of Mirrors from Versailles. Hidden doors and faux wall paneling mask four individual toilet rooms that feature bright jewel-tone colors inspired by Marie Antoinette's gowns. The main powder room is flanked by a reinterpretation of table-mounted porcelain sinks on either side with brass hexagon mirrors above. A vanity is situated at the window and directly adjacent is another chaperone chair, this time covered in chinoiserie fabric, a favorite of Marie.