Submitted by Sebastian on
March 30, 2018
Dekkadance & Sora Selected as AIA|LA Restaurant Design Awards Finalist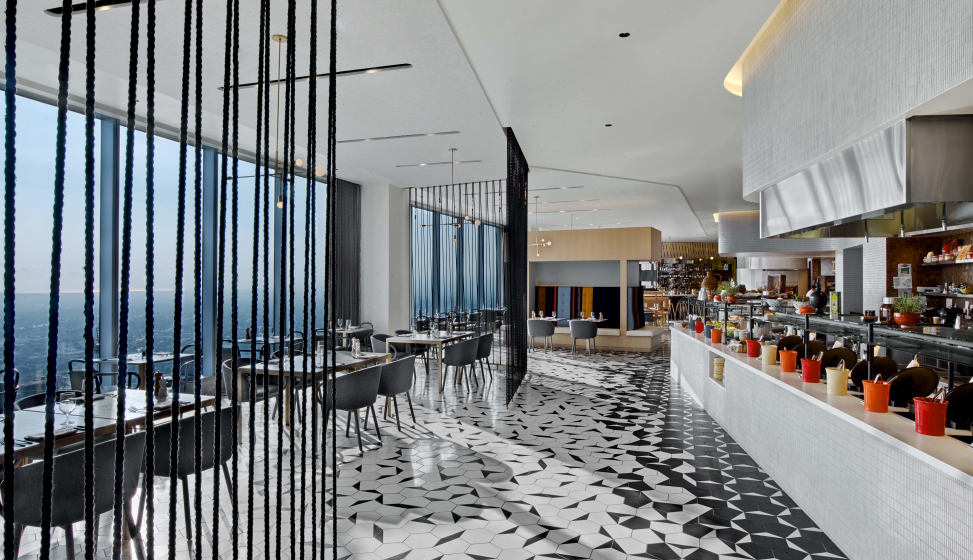 Dekkadance & Sora has been selected by AIA|LA as a 2018 Restaurant Design Awards Finalist. AIA describes these finalist projects as representing some of the year's most striking designs.
Dekkadance & Sora are two casual dining venues on the 69th floor of the Wilshire Grand, featuring panoramic views of the city. Dekkdance is an urban bistro that overlooks not the sidewalk, but the expanse of the city grid below. In this DTLA "neighborhood joint" in the sky, hotel guests and city dwellers rub elbows while enjoying a diverse dining scene. The bright and crisp environment is conducive to power breakfasts, sophisticated business lunches, and even late-night comfort food from the pizza oven. 
Around the northwest corner lies Sora, an authentic neighborhood sushi bar. Its palette is reminiscent of an urban fish market with deep turquoise glazed tiles & mesh backed stools that beckon images of "deep sea fishing pots". A live-edge wood slab countertop recalls a tradition of Japanese craft and woodworking. In addition to a central counter, a conveyor belt lines the window counters, carrying minimalist sushi bites for a quick and efficient power lunch setting. 
Photo: Eric Laignel